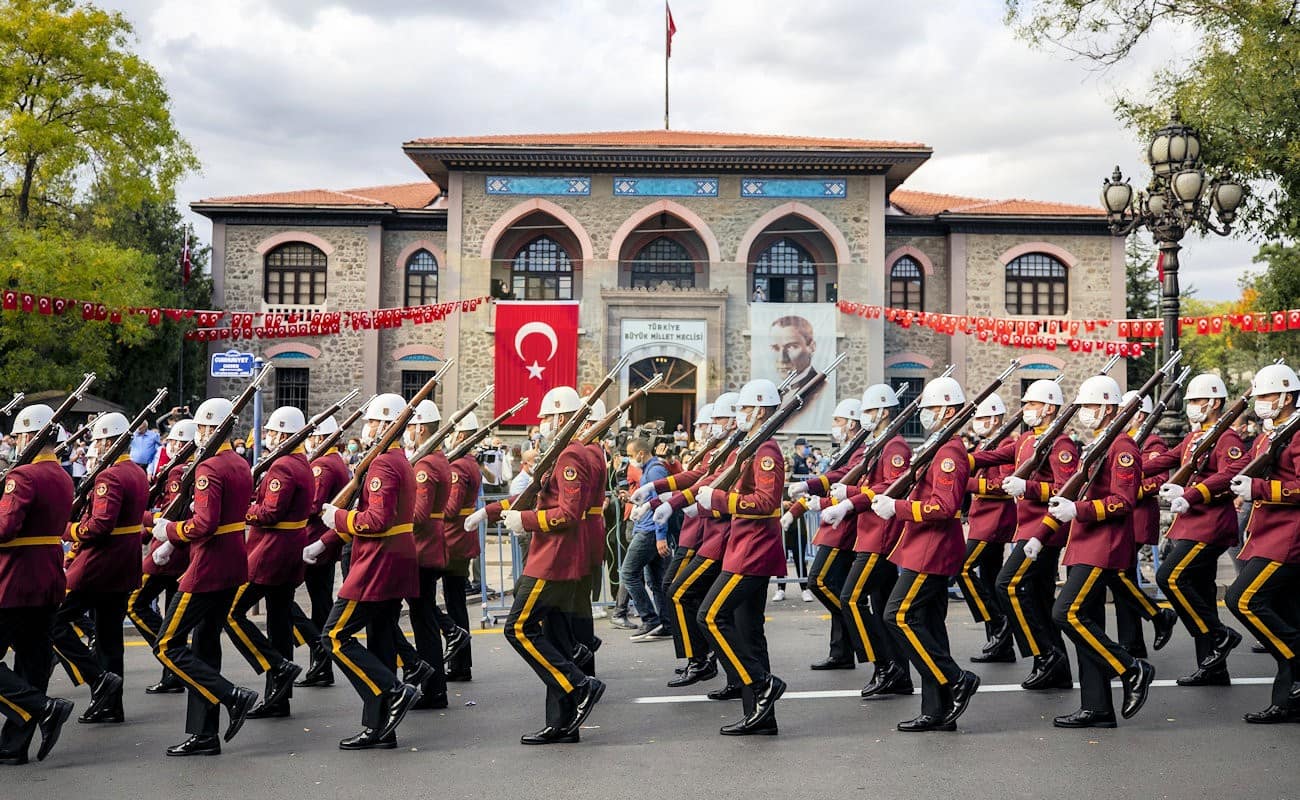 Turkish Republic Day
Turkish Republic Day (Turkish: Cumhuriyet Bayramı) is one of the most significant national holidays in Turkey, celebrated on October 29th each year. It marks the anniversary of the proclamation of the Republic of Turkey in 1923. This proclamation, led by Mustafa Kemal Atatürk, abolished the Ottoman Empire's monarchy and established the modern Turkish Republic.
Grand Ceremonies in Ankara
The capital city, Ankara, hosts the main Republic Day celebrations. The day typically begins with a ceremonial event at Anıtkabir, the mausoleum of Mustafa Kemal Atatürk. Turkish government officials, including the President and Prime Minister, gather to pay their respects and lay wreaths at Atatürk's tomb.
Turkish Republic Day Parades
Throughout Turkey, military parades and civilian processions are organized to commemorate Republic Day. These parades often feature military units, marching bands, schoolchildren in traditional costumes, and various groups representing different aspects of Turkish society.
Flag-Raising Ceremonies
Flag-raising ceremonies are held in public squares and government buildings across the country. The Turkish national flag, with its red background and white star and crescent, is an important symbol of the republic.
Fireworks Displays
In the evening, vibrant fireworks displays light up the skies in cities and towns nationwide. These displays are a highlight of the celebrations and are enjoyed by people of all ages.
Cultural Events
Republic Day is also a time for cultural events, including concerts, theater performances, art exhibitions, and folk dances. These events showcase Turkey's rich cultural heritage.
Turkish Republic Day Public Celebrations
Citizens often celebrate Republic Day by wearing their finest clothes and participating in local festivities. Streets and buildings are adorned with Turkish flags, and people express their patriotism and national pride.
Speeches and Messages
Political leaders, including the President and Prime Minister, deliver speeches and release messages on Republic Day, reflecting on the significance of the republic's establishment and emphasizing the principles of the Turkish Republic.
School Activities
Schools play a significant role in Republic Day celebrations. Students participate in various activities, such as essay contests, art projects, and musical performances, to commemorate the day and learn about the country's history.
Turkish Republic Day is a momentous occasion that marks the founding of the modern Turkish state and the adoption of a new political system based on principles of secularism, democracy, and equality. It is a day of reflection, pride, and unity for the Turkish people, as they celebrate the enduring values and ideals of the Turkish Republic.
"Peace At Home, Peace In the World"