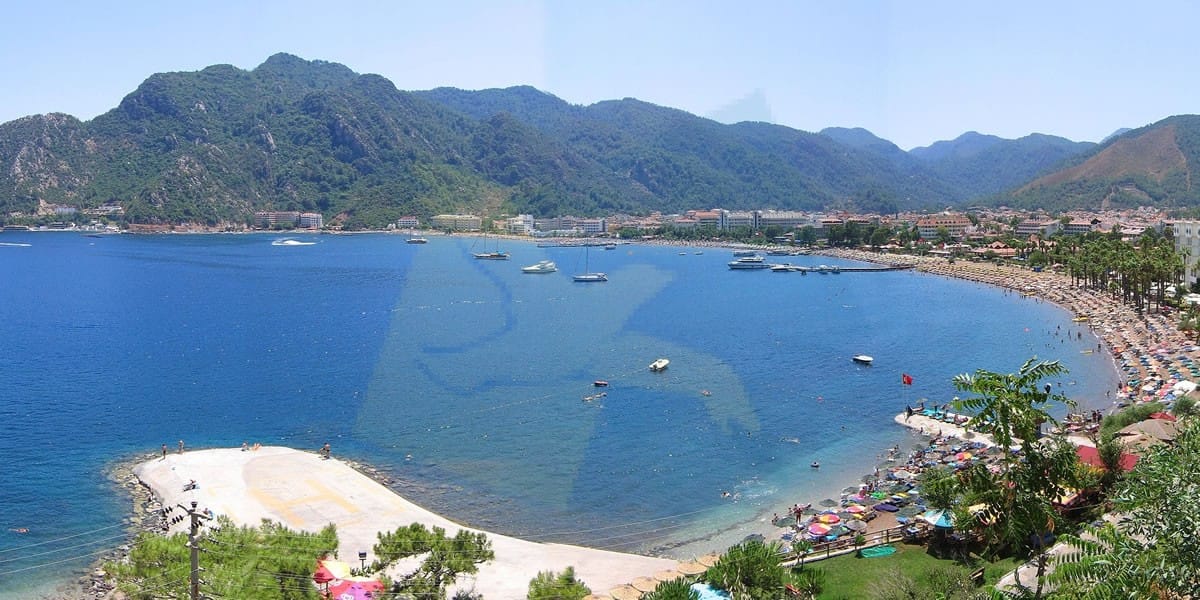 Marmaris Icmeler Area
Marmaris Icmeler Area is a popular resort area located just 8 kilometers southwest of Marmaris in Turkey. Known for its beautiful beach, natural surroundings, and vibrant atmosphere, İçmeler offers a more relaxed and tranquil alternative to the bustling city center. Here's what you can expect in the Marmaris Icmeler area:
Icmeler Beach: The main attraction of Icmeler is its stunning beach, which stretches along the coastline. With its golden sand, clear turquoise waters, and picturesque backdrop of pine-clad mountains, Icmeler Beach is perfect for sunbathing, swimming, and various water sports activities.
Water Sports: Icmeler Beach provides opportunities for water sports enthusiasts. You can try activities such as jet skiing, parasailing, banana boat rides, and diving. Water sports centers and rental shops are available along the beachfront.
Promenade and Shopping: İçmeler has a charming promenade lined with shops, restaurants, and cafes. You can take a leisurely stroll, browse through local boutiques, and find a range of items, including clothing, accessories, Turkish crafts, and souvenirs.
Restaurants and Bars: The Icmeler area offers a variety of dining options, ranging from traditional Turkish cuisine to international dishes. Many restaurants serve fresh seafood, mezes (appetizers), grilled meats, and vegetarian options. There are also lively bars and pubs where you can enjoy a drink and experience the nightlife.
Natural Beauty: Icmeler is surrounded by scenic natural landscapes. You can explore the pine forests, go hiking or cycling along the mountain trails, or take a boat tour to nearby bays and islands, such as Cleopatra Island, to discover more of the area's natural beauty.
Excursions: Icmeler serves as a starting point for various excursions. You can join organized trips to nearby attractions like Dalyan Mud Baths, Turtle Beach, or the ancient city of Ephesus, which are all within reach for day trips.
Icmeler offers a laid-back and scenic getaway, perfect for those seeking relaxation, beach activities, and a taste of local culture. Its natural beauty, combined with a range of amenities and attractions, makes it a popular destination for both families and couples looking to enjoy the Turkish coastal experience.