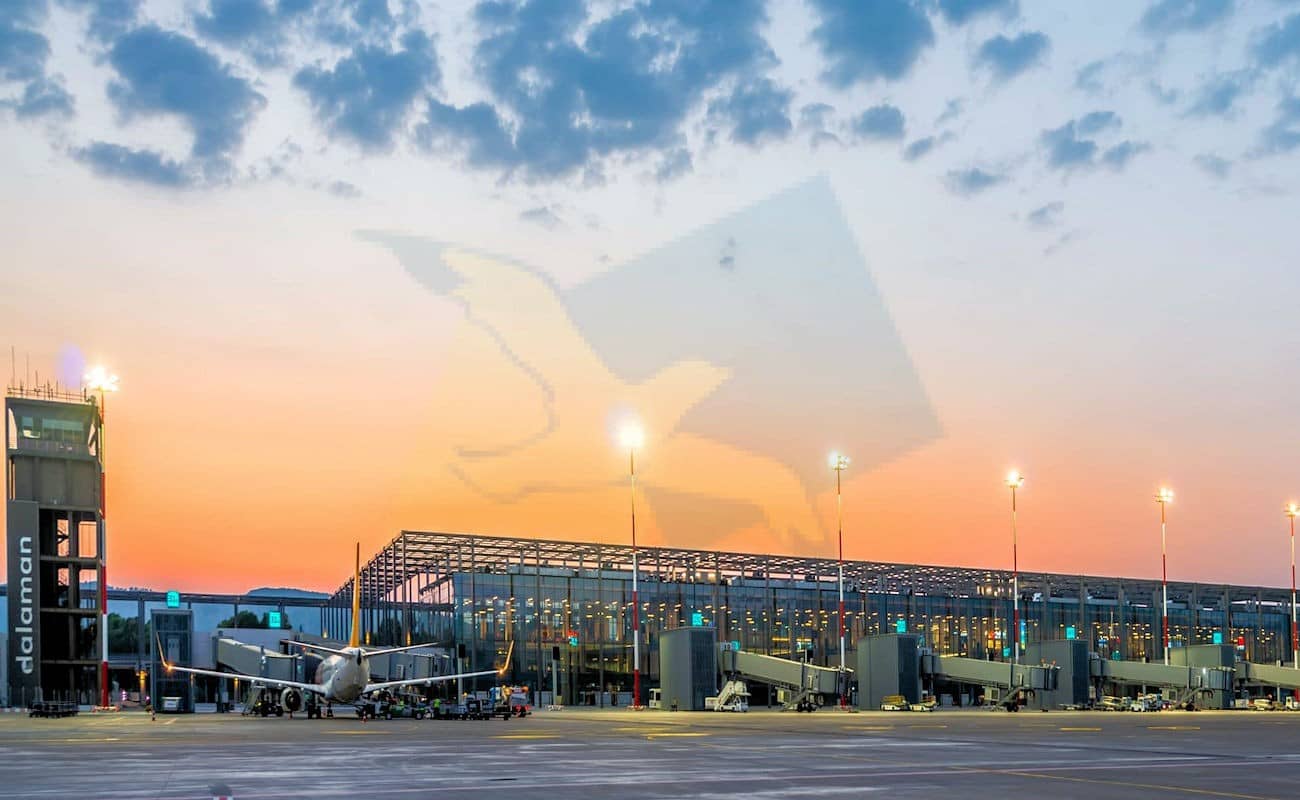 Dalaman International Airport
Dalaman International Airport
Address : DHMI Havalimani, 48770 Dalaman-Mugla, Turkey
Location : the airport is located 90 km east of Marmaris resort and 6 km south of Dalaman center
Airport Code : DLM
Number of Terminals : 3
Telephone : +90 (252) 792 55 55
Fax : +90 (252) 792 55 65
Built in : 1981.
Modern international terminal built in : 2006
Time zone : GMT + 2 (GMT + 3 between Apr-Oct)
Information and help desks available in two terminals.
Cash Refund Office : Isbank open every day – 24 hours
Dalaman International Airport

Facilities
The airport provides an ATM, Deniz Bank, currency exchange office and a duty-free shop in the international Terminal. Post offices are in both the international and the İçhatlar (domestic) Terminals. There are snack bars and cafés, plus Duty Free, souvenir and sweets shops. First aid facilities are available. 
Passenger Facilities
60 check-in counters, 14 new parking places for airplanes are planned. There are 8 passenger bridges and 6 distant plane passenger boarding gates. 390 short term parking spaces, 390 long term parking spaces, Min. Connection Times Intl-Intl: 60mins, Dom-Intl: 60mins, Dom-Dom: 60mins. Annual passenger capacity is 3,500,000.
Security
For the security of the building, x-ray devices and metal detectors are located at all entrance-exit gates of the terminal and transit points between the units. Furthermore, the passenger baggage are inspected through an in line detection system including a number of x-rays and explosive detecting devices (EDS/EDDS) from the check-in until they reach their plane. At the terminal building, the most advanced technology are used in terms of building and aviation security, all areas are monitored by CCTVs. 
Shopping Center
Shopping Center – The Grand Bazaar at Dalaman Airport
A shopping center covering an area of 5.000 m2 is built under the New Terminal Building. The shopping center bears the concept of the Grand Bazaar. The shopping center, where the unique and authentic products of Turkey are sold at carpet, leather and jewelry shops, create the Grand Bazaar's atmosphere at Dalaman Airport with its indoor design as well as the animations to be organized.
Car Parking
There is a car park at each Terminal. The car park are controlled with the help of an automatic tolling system and that region's security is ensured by the CCTVs located in that area and the security officers.