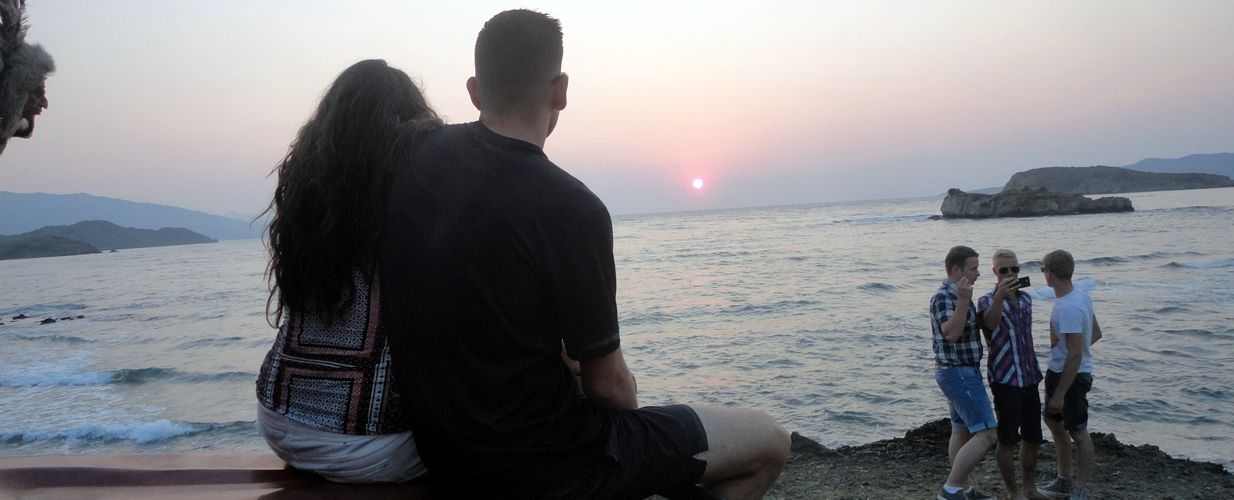 Sunset Jeep Safari excursion is available every Wednesday & Sunday between June 14th - September 6th
PRICE LIST
Currency of United Kingdom
Adult Price
24.90
Child
( Child Ages Between 7 - 12 )
12.45
Infant
( Infant Ages Between 0 - 6 )
FREE
PRICE LIST
Currency of Turkey
Adult Price
120,42
Child
( Child Ages Between 7 - 12 )
60,21
Infant
( Infant Ages Between 0 - 6 )
FREE
PRICE LIST
Currency of the Eurozone
Adult Price
27,77
Child
( Child Ages Between 7 - 12 )
13,89
Infant
( Infant Ages Between 0 - 6 )
FREE
PRICE LIST
Currency of United State
Adult Price
32,80
Child
( Child Ages Between 7 - 12 )
16,40
Infant
( Infant Ages Between 0 - 6 )
FREE
SUNSET JEEP SAFARI IN MARMARIS
For some an idea of romance is the beach, the sunset and beach bonfire, add to this a barbeque dinner, live music and swimming - and you've just described Marmaris Excursions Sunset Jeep Safari!
Home to thousands of acres of conservation areas Marmaris National park is the most fascinating area to be discovered and Marmaris Excursions jeep safari will give you the chance to explore the area's pristine creeks and green nature.

A convoy of well maintained jeeps takes you right off the well beaten track at 6 PM or 18:00 hours from Marmaris (including Icmeler and Armutalan), through the stunning countryside of the Bozburun Peninsula and Marmaris National Park.
Enjoy the spectacular views of pine-forested mountains dotted with small villages, we will arrive to the beach just in time before the sunset. Enjoy a half hour for swimming in naturally clear waters.
For watching the sunset we will drive up the hill after this swimming break.

Your sunset experience is not complete yet, as we drive further to another beach location for our barbeque dinner, beach bonfire, live music and more swimming for some of you.
We set the maximum speed limit at 50km/h and all jeeps are driven by our professional safari drivers.

Be sure to bring your camera and a great attitude! Each sunset experience is limited by the number of guests, so reservations are strongly suggested. Private experiences are available. Please bring clothing appropriate for the weather conditions, but light jumpers or a shawl are a good idea, always.

Be sure to tell the rest of the family or friends who will not be joining you on a Sunset Jeep Safari tour that you will be back late,  after midnight.

No age limit everyone loves it!
Duration : Approximately 6 hours

Price Includes : Pick-up and Drop-back service, Insurance, Barbeque dinner

Price Excludes : Drinks, Photograpy & Filming services

Restrictions : None

Bear in mind : Keep your cameras and phones in plastic bags during the off-road drive to protect them from water-fights & dust

Bring along : Swimsuits, Towels, Light jumper or shawl as when the sun goes down evenings could be chilly

Pick - up time : Between 17:30 & 18:00

Drop-back time : Between 00:00 & 00:30

Notes : Disclaimer: MarmarisExcursions.com does not endorse or warrant photo and video service and shall bear no responsibility for photos or videos you purchase on the spot


Availability

Sunset Jeep Safari Excursion is available from Marmaris, Icmeler, Armutalan every from June 14th until September 6th
Highlights of Sunset Jeep Safari

Sunset Jeep Safari, romance, beach, sunset, beach bonfire, barbeque dinner, live music, swimming before sunset, swimming after sunset

Page Tags

Sunset Jeep Safari, spectacular sunsets, beach bonfire, live music, swimming before sunset, swimming after sunset, barbeque